We cherish our customers! Here's what they have to say and the wonderful home photos they've sent us.
"Absolutely amazing wine rack! I was searching for a quality wine rack online
and the big retail stores didn't have anything that seemed that would hold up.
I came across this wine rack and was so glad I purchased it. It's
absolutely beautiful in my space and I keep raving about it to all of my
friends and family that they need to get one.
I highly recommend if you're searching for a wine rack that you go with this one
from Home Decor Creations. Elizabeth and Jeffery did a terrific job and they were
so nice to communicate with. I purchased options A&C in dark walnut. Once again,
highly recommend them and trust me, you need this in your house!!"
Love these shelves! They did a wonderful job on these shelves
that we wanted for our bar set up. We needed a custom length
and they were more than happy to work with us.
Would highly recommend.
I love these shelves. Customer service is great! Shelves are well made and packaged and shipped with care. I would highly recommend.
Thank You! Love it.
These shelves are amazing. Worth the cost and and wait for a custom order, which is quite fast I might add. They are easy to install and durable. They're a great addition to our apartment and rental friendly. I will certainly be a returning customer!
"We LOVE our wine glass shelves! They look incredible and are so functional. The owner of this shop was also kind enough to tell me the stain she uses so that I could stain a wine rack I purchased in the same color. Amazing product and people to work with. Thanks so much again!"
"Awesome final touches to our bar area."
"Super communication- Stellar product- Beautifully made and perfectly described. I purchased the dark walnut and they are a show piece! Already referred two friends!!"
"We love our new wine racks! We have a very cold hallway that is perfect for wine storage, but we needed a slim profile rack that wouldn't block the space. These racks were a great solution! They are super sturdy and very well made."
Awesome store owners, they worked with us tirelessly to help us find what we needed.
These shelves fit so great in our space and are perfect with our decor.
Looks great in my sons room. Getting some of the junk off the floor is a nice way.
I love these shelves. Super sturdy, easy to hang. Great item!!!
I LOVE IT! Exactly what I needed for the wine bar! Easy to hang too, thank you!!!
These shelves look great! Thank you!! 2 person job, but very easy to hang.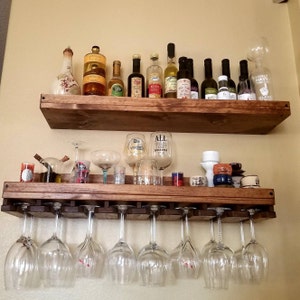 Amazing! Fast shipping and amazing quality of craftsmanship!
Gorgeous addition to any home.
Very helpful creating my custom shelf. The shelf is beautiful
and perfect in our home! I will definitely keep Home Decor
Creations in mind for any future projects. Thank you!
Love them they look great thank you.
Super fast shipping and well made pieces. Wife loves it, thanks!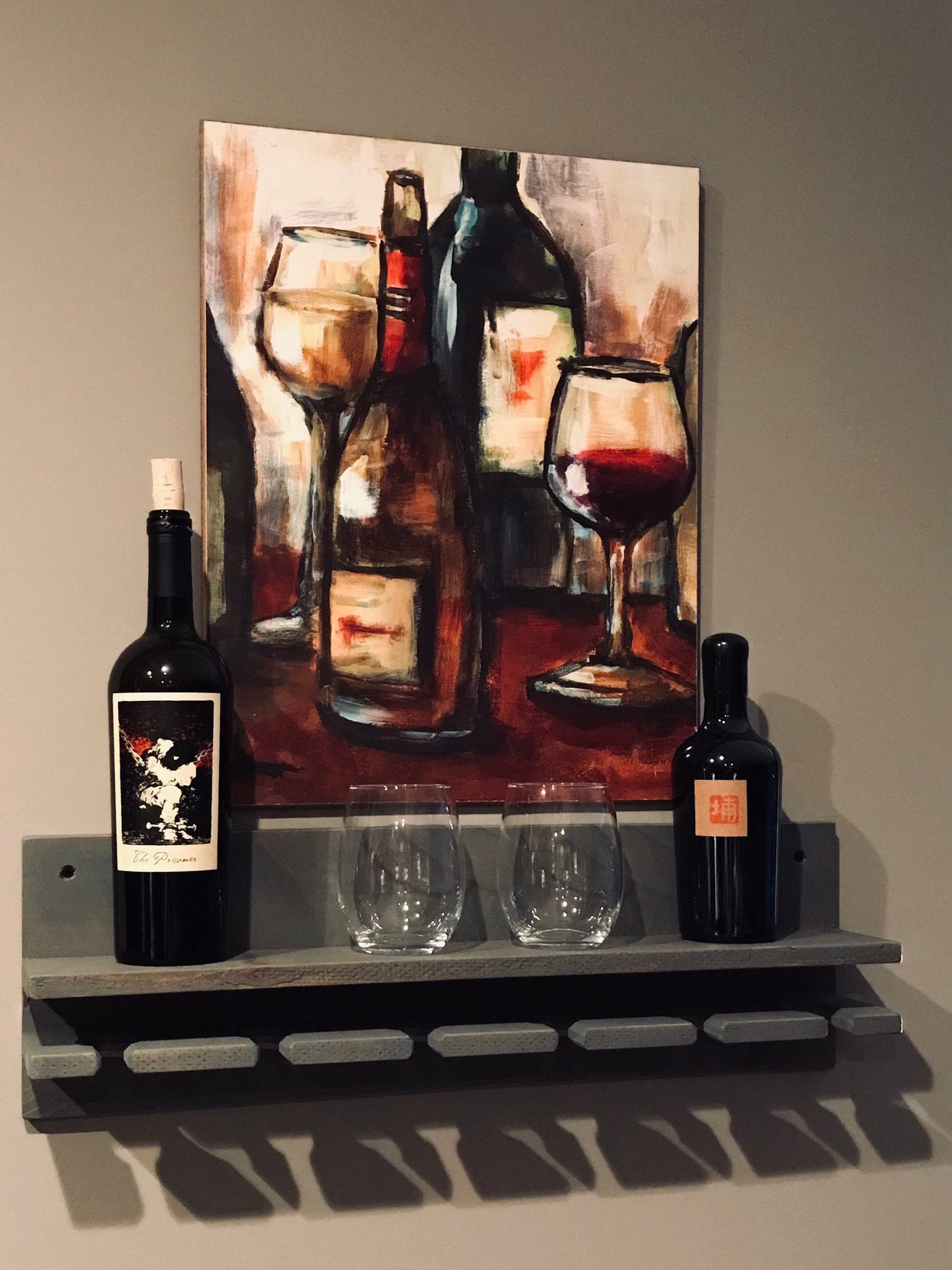 Just received it! Couldn't wait to hang it. It's perfect!!
Need to add more wine of course & I only have
stemless glasses but it's a great conversation
piece. I will defiantly purchase from your site
again. It's custom & it matches beautifully with
my my walls & decor.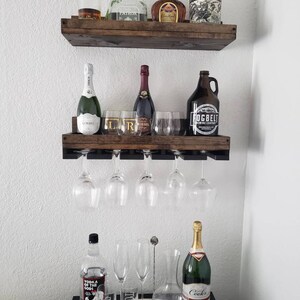 We love our bar! These shelves were absolutely perfect,
easy to hang/install, and look amazing! So glad we found
these. Would recommend.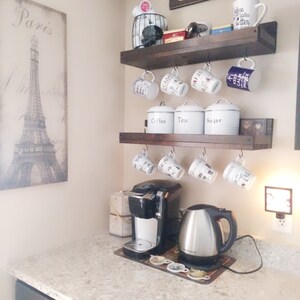 I want to give this more than 5-Stars, I absolutely love the design
and it goes perfectly with our new updated kitchen...I adore
my new coffee tea station! Arrived on time and nicely packaged
and easy to hang although father in law did the manual labor,
I did the decor part...next may need to order their wine decor
shelves for the basement as is quality work! Thanks again!
Hung this up today and it MAKES our bar area. So very happy with
the purchase.Thanks for being so responsive and making us such
a great addition to our home.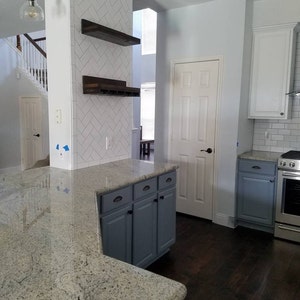 Beautiful product, well made. Very happy.
Beautiful! They look so good!
These 24" shelves are perfect! I love the walnut color.
Gives it a rustic look. They are sturdy and hold
plenty as shown. Thank you so much Home Decor
Creations!
Absolutely in love!!! Great communication and quick delivery!!
I received this stemware from my wedding shower and wanted
to showcase them! I received the wine glass holders just in time
for Mother's Day as my husband and I were hosting. My in-laws
couldn't say enough good things about how beautiful and unique
the wine glass holders were!! I absolutely love them and they fit
perfectly with my style!! Love love love!!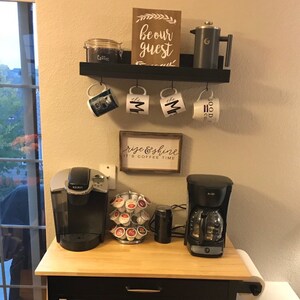 Beautiful! Arrived packaged very securely and exactly as described.
Ordered 9/24 and arrived 10/8, which was within the time frame expected.
I ordered the ebony color. It was easy to install (at 9 months pregnant, I
was still able to hang this myself). The instructions said to just use a
screwdriver to press the anchors flush into the wall but I did find I
needed to use a drill. Still very easy. It makes a great addition to the
coffee corner in my kitchen. Thank you!
Exactly what I was looking for to complete this picture.
Very sturdy, broad enough for a crowd of bottles without
taking up excessive room, and just rustic enough to fit
in with a fifty-something Pam clock and some period natal signs.
Everyone loves them and we have already received compliments
from some of our hotel guests. Thanks again!
"Absolutely perfect! Thank you so much! I love it!"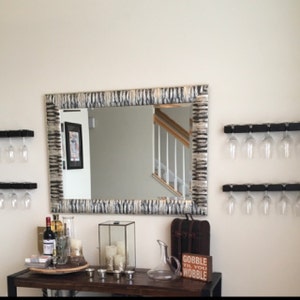 We're so pleased with our purchase from this shop!
Great product! We were in a pinch for time and they
really followed through. The racks were shipped so quickly!
I was looking for a way to save some cabinet space, and these
shelves were PERFECT! I just put them up today, and love the
results. Great communication from the sellers too.
Absolutely unbelievable service and impeccable work. I have
never been inclined to leave a review but Jeff was the most
professional entrepreneur and vendor I have ever had the pleasure
of dealing with. He did not rest until I was completely happy
with the final result. I love my wine rack and have received numerous
compliments from many friends and family.
Just wanted to thank you for the wine glass holder!! It was the
perfect birthday gift for my Mom, she loved it.
Looks great! Isn't bulky on the wall, very sophisticated
The racks worked perfectly with our Mexico glasses!
Quick ship, great communication on custom sizing with
Jeff and Liz.
We love our new wine rack! Fits perfectly with our decor.
Fast delivery, efficient setup instructions, great product!
Thank you Liz & Jeff!
I love this coffee rack! And the added chalkboard element
is the selling point for me! Super cute, would fit in any
style home. Love it!
They were super helpful in helping me adapt this piece
for beer bottles instead of wine bottles! Extremely fast
shipping and excellent product overall!
Absolutely perfect for the space, love that it's unique and functional.
I love the piece you made for me. I found these cups
and wanted to display the vivid colors. Thank you for
working with me and making it fit these size mugs! I love it!
Liz and Jeff were the best to work with, so nice! The wine rack
and two shelves are beautiful! We could not be happier and
highly recommend their pieces. Well made, customizable and
impressive finish to the wood. Just what our kitchen needed!